Although the dark days of nationwide lockdowns are now behind us (hopefully) forever, the hospitality industry has faced ongoing challenges throughout 2021, struggling to adapt to the 'new normal' of vaccine passports, track and trace and everything in between. Although we're gearing up for a busy festive period, many businesses, especially pubs and bars, are now looking to 2022 as the real year of recovery from the pandemic and planning ahead to establish how they can stand out and shine in an increasingly challenging marketplace.
Hungrrr's feature-rich ordering technology helps hospitality businesses to do just that, offering white-label websites and mobile apps designed to engage customers and enhance revenue. Read on to find out why a bespoke mobile app is a must have for pubs and bars in 2022.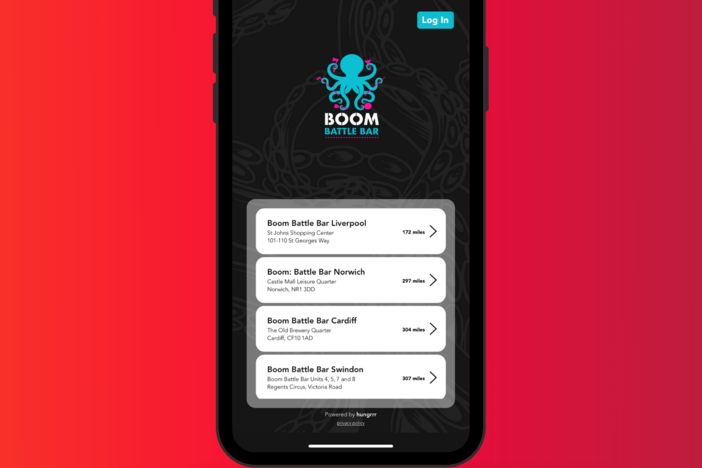 1 - Help your pub go paperless
Many pubs and bars are currently looking to go paperless in a joint effort to be greener and to mitigate the spread of any infection in the wake of the COVID-19 pandemic. With your own mobile app powered by hungrrr, you can allow customers to access your menu and place all orders online, from their table – no need for sticky menus or endless tickets for your bar and kitchen. Bills can also be requested and paid via the app, removing the need for paper copies – helpful for your staff and the environment!
2 - Better for your bar staff
The hospitality industry is in the wake of a recruitment crisis at the moment, putting immense pressure on the teams currently working hard throughout the UKs pubs and bars. By introducing your own mobile app, you can alleviate some of the challenges they face and free up time to focus on the priorities. Our table-ordering app solutions send tickets directly to your mixologists or experienced pint pullers behind the bar, allowing your front of house team to concentrate on delivery the drinks. Moreover, customers can also book tables and pre-order on the app, freeing up your phone lines.
3 - Maximise your menu
The majority of successful bars offer a menu of sorts, whether it be high-end gastro dishes, or traditional pub grub. Either way, it can be challenging to react quickly to endless updates and amendments on your menu, when you really want to concentrate on serving your hungry and thirsty customers. With a mobile app, you can make changes to your menu, add new products and mark items as 'out of stock' at the touch of a button, so your customers know exactly what to expect. This is particularly useful for special themed nights and offers, such as a discounted pub quiz menu on a Tuesday, or curry night on a Thursday.
4 – Ramp up your revenue
While customer satisfaction is a top priority for pub and bar owners, in order to survive, it's also essential that your establishment is pulling in the pounds. Your own mobile app and website can help you do this, with endless options to upsell and increase average cheque spend. Feature add-size pricing, offer elevated options for wines and spirits and promote discounted snack items alongside each drinks order – the opportunities are endless! What's more, if you offer branded merchandise, from beer glasses to t-shirts, you can let customers order them on the app for delivery directly to their table.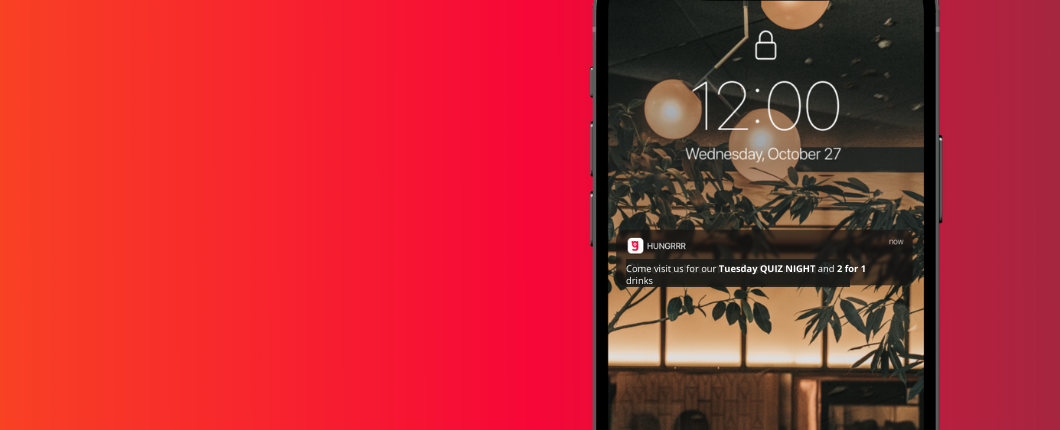 5 – Marketing made easy
With so much competition, all hospitality venues are looking to do something different in order to engage customers. Whether it be an insta-worthy cocktail offering, a weekly quiz night or an all-new festive menu, it's crucial that everyone knows exactly what makes you stand out. With your own app, powered by hungrrr, you can deploy push notifications directly to your customers mobile devices, letting them know about new offers, updated menus, themed events and much, much more. Our dashboard will also give you full access to your customer information, allowing you to identify top-performing dishes or drinks, loyal patrons and other valuable insights.