Why Table Ordering?
The hungrrr table ordering app for iOS and Android allows food businesses including bars, restaurants and pubs to allow customers to order food and drinks to their table without leaving their seat.
The popularity of using order to table technology has boomed in popularity, providing not only benefits to the customer, but the benefits it provides to the business also.
How it works...
Use unique QR codes or have your customers enter their table number on your branded ordering app. From here, your customers can browse your menu, build their order and pay using card or Apple and Google Pay.
Give yours customers a seamless ordering experience by allowing them to order food and drinks to their table through your own branded online ordering system.
Your business will benefit from an increase in spend as a result of upselling, push notifications and reduced staffing and operation costs.
The app is perfect if you are on your own and don't want to lose your table, or you don't want to carry a large round of drinks back through a busy pub on a tray.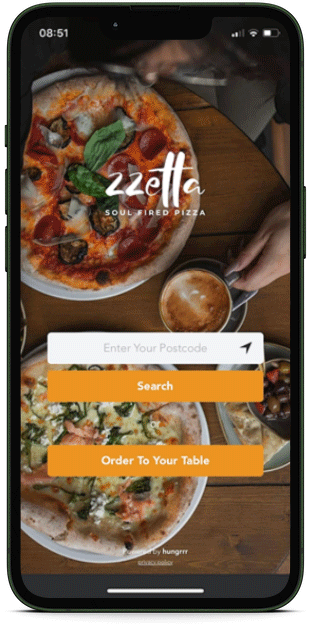 How can a Table Ordering app help my business?
As an operator you can also see the benefits of the increased spend through easy upsells, the ability to do push notifications to your customers once they leave, as well as reduced staffing costs as more and more customers self-serve by ordering, paying and the order going direct to your kitchen!
Manage your menu, pricing, offers and orders
Unlike other online ordering companies, at hungrrr we believe that the more control you have of your own business, the better. Our management dashboard allows you to easily make changes as and when you need to.
Full training on setup
On-call support team 7 days a week
Add, edit, or delete items on your menu at any time
Update delivery costs and opening hours at any time Have confidence with 0% commission
Speak to our team about how you can get started with our low-cost monthly plans and 0% commission on orders.
Built in customer database
For each order via your table ordering app, you will also be collecting each of your customers email addresses for your own marketing purposes. Contact your customers through email and push notifications with offers and promotions.
Seamless EPOS Integration
Our technology supports a wide range of EPOS systems, seamlessly integrating with your existing system.