Why Table Ordering?
Since Wetherspoon launched their table ordering app we have seen a large increase in clients using our platform to deliver this same functionality. The Hungrrr table ordering app for iOS and Android allows food businesses including bars, restaurants and pubs to allow customers with an iPhone or Android phone to order food and drinks to their table without leaving their seat.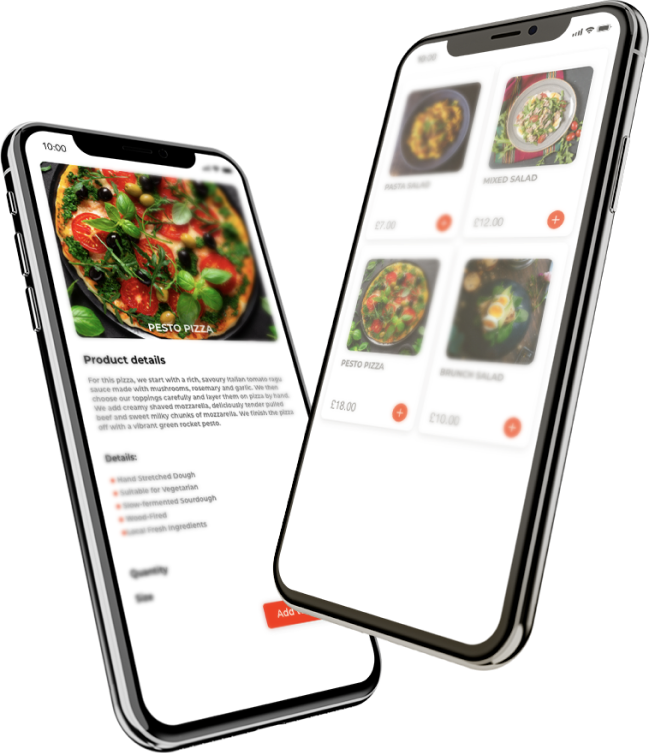 How it Works...
Simply enter your table number, browse the menu to build your order and pay using your credit, debit card, PayPal or Apple Pay / Android Pay. Going to the bar to order when you are visiting the pub, bar or restaurant with children can be tricky. Keep everyone seated at the table and order using your phone and let them bring everything to you. Not only that, the bar area can often be very busy, so avoid the queues and get your lunch time order in fast to avoid the queue!
The app is perfect if you are on your own and don't want to lose your table, or you don't want to carry a large round of drinks back through a busy pub on a tray. How can a Table Ordering app help my business?
As an operator you can also see the benefits of the increased spend through easy upsells, the ability to do push notifications to your customers once they leave, as well as reduced staffing costs as more and more customers self-serve by ordering, paying and the order going direct to your kitchen!
Full control to manage your menu, pricing, offers and orders
Unlike other online food ordering companies, at Hungrrr we believe that the more control you have of your own business the better, and that is why we have created a super-easy interface for you to manage it yourself.
Full training will be provided on setup and on request anytime.
You can add / edit / delete any item on your menu at the touch of a button yourself.
You can update delivery costs and opening times yourself.
Full support from the Hungrrr team is on hand if ever you wish.
Built in customer database
For each order via your table ordering app, you will also be collecting each of your customers email addresses for your own marketing purposes.
You can then contact your customers via email with offers and promotions.
Target your customers based on their location or food preferences.
You are in full-control of your own customers data.
At Hungrrr we will never use or distribute any of your customer data.
Support for orders to one location or multiple with GPS technology
Further utilising our expertise at Hungrrr, we have setup a solution so that whether you have one location or multiple venues the apps can be set up to easily detect which venue your customer is in.
You can serve your nearest location to the customer based on their postcode.
You can start with one location and add other locations anytime.
Different locations can offer different menus & pricing.
Your orders would then be sent to the respective venue based on nearest to customer. All transactions come direct to you in an easy, regular transfer
As part of the setup we will also guide you through creating your own payment gateway so you receive the funds quickly and easily from your orders once you are up and running.
You are in full control of setting up which bank account you would like the funds transferred into.
Money would be paid direct into your account as required.
Hungrrr take no commission on your orders.