Order to meeting room with streamlined
technology
Hungrrr offers a custom-built, virtual concierge and ordering solution to help streamline meeting & function experiences.
Your conference hosts can request assistance, find information, book equipment or order food and beverage with ease via your own mobile site.
Website offering for your meeting or function
Hungrrr promises a bespoke website for your venue. This will act as an invaluable tool for meetings and functions.
We provide you and your event planner with branded QR codes that your guests can scan via their phone. Guests will then be able to access a user-friendly website for meetings and functions where they can place orders and request assistance from your staff.
Order to meeting room on the website
Increase your service levels with a solution specifically designed with meetings and events in mind. The platform allows staff to be instantly informed of the host's needs, so they can provide fast service and immediate solutions, optimising operational effectiveness.
Your meeting website can offer a virtual concierge service, enabling hosts to request assistance without leaving their guests. For example, if they need a laptop charger, adjustments to the air con or they are running behind schedule, they can let your team know at the touch of a button.
Information can also be shared and updated on the platform, such as WiFi codes, special notes, fire drill procedures and first aid points. All of this information is easily accessible, so your customers can review at a glance.
The platform allows direct access to book additional audio-visual equipment and order food and beverage to the meeting room on the day.
Billing is taken care of, with direct payment solutions available via the platform. There is also the option to charge to the meeting room.
Platforms powered by hungrrr are designed to integrate with EPOS systems and similar, making it easy to streamline with your current technology.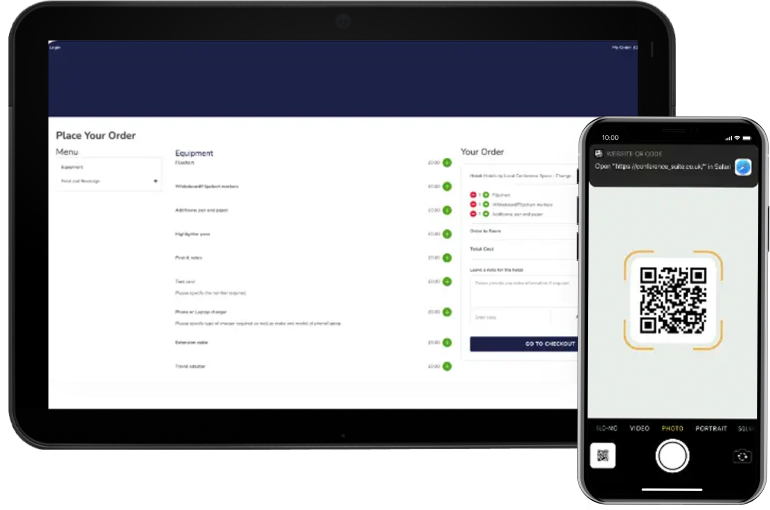 Order to function room on the website
Your own branded platform will take you to the next level in guest service. Exceed your customers' expectations with a seamless ordering solution that compiles event ticket booking, pre-ordering and live table-ordering. You can also host brochures and other company information on the app, helping to answer FAQs and other queries.
Guests can pre-order tickets for special events via your platform. They can then plan ahead for the night by pre-ordering drinks and other requests to their table. This will give you the opportunity to upsell additional food and beverage in advance driving increased revenue. It's easy to review sales with bespoke reporting available.
The platform is flexible and can be designed specifically for your location, whether you host weddings, parties and/or other functions of any size.
By simply scanning a QR code, your customers can order beverages and snacks directly to their table without interrupting the event. This will also allow you to optimise your staffing, while providing a fast bar service for guests. Direct payments are also facilitated on the platform, with the additional option for guests to request a bill to their table.

Guest assistance on the website
Hungrrr's guest assistance technology allows you to fulfill guests' requests without them having to leave their room or call reception. Whatever they need and whenever they need it, our software ensures a smooth process.
Have your guests forgotten to pack a travel adaptor, toothbrush or mobile phone charger? With your own platform, guests can contact you at the touch of a button. You can then provide impeccable service by delivering items like these directly to their meeting room.
There's no need for your front of house team to spend hours on the phone managing requests. This can all be placed through the platform and then the team can handle multiple requests simultaneously. Having the right information immediately enables your team to easily resolve any issues and enhance the overall guest experience.