Is your takeaway looking for clever ways to entice your customers to place orders?
If you are, and you are using an online ordering platform, then push notifications should be your "best friend" in this situation. Push notifications are a highly versatile tool that is used to send messages to your customers and their usage for online ordering platforms, may just be the game changer takeaways need during the current cost of living crisis.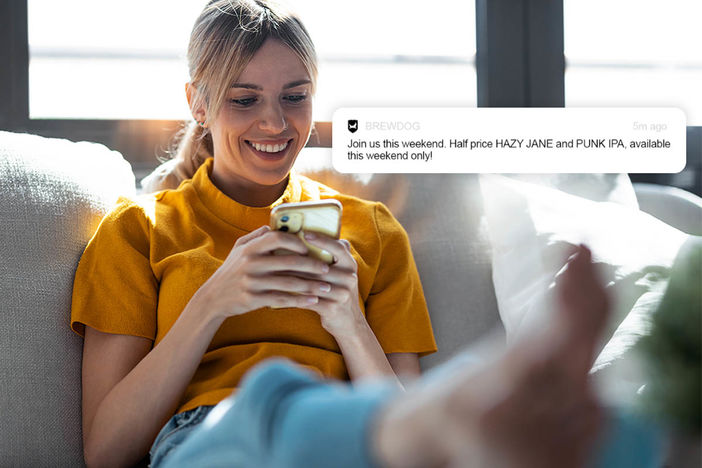 Advantages of using push notifications:
Push notifications receive a higher engagement and click-through rate compared to email marketing
It makes it easier to engage with your customers as the notification appears on their home screen
Make customers instantly aware of offers and discount codes
The have a clear purpose and call-to-action, supporting the click-through rates
How can your takeaway can maximise sales with push notifications
Takeaways can use push notifications to inform customers of any offers or promotions that they have running or to remind them of any ongoing promotions.
For example, a notification could be sent out every Tuesday if your business was running a meal deal every Tuesday.

Push notifications can also be used to inform customers of new products. Using one or more emojis in the notification could be the difference between someone ignoring the notification, and that same person opening it, ordering and trying the new product.
Push notifications can also be used to inform your customers of any changes to opening hours, or any new places you deliver to. This could be helpful for customers who are not available to order during old opening hours, or ones that were living just outside of where your business delivers to.
Your business must be able to have a good balance of when and when not to send out push notifications to customers, as sending out too little means that you are missing out on a free chance to market your product to your customer whereas sending out too many could lead to the customer opting out of their notifications or even worse, uninstalling your app. This means that keeping a good balance is very important.
How to send engaging notifications
The key to sending out an effective push notification is to engage the customer, whilst keeping it short and snappy.
Here are our top tips for sending engaging notifications:
Use push notifications during big events such as the world cup
Emojis can be a huge advantage to catching your customer's eye
Use personalisation such as including your customer's name
Make your notifications relevant and send them out are the most engaging times
Top tip: Your takeaway can use scheduled notifications to send out a notification at an exact time when you wish to promote your business, or any offers at an off-peak time to try and raise some sales during times when the business is a bit more quiet than usual.

Let's boost your sales
Using push notifications will increase your online orders and in turn, increase your revenue, and comes at no extra cost, if you are using an online ordering Platform which enables you to send these out. It is a low-effort, stress-free and low-cost solution to increasing your sales, which every business should be making the best of. Hungrrr can offer you an online ordering Platform which has fantastic push notifications support, if you wish to enquire about setting up your business with your very own feature-rich online ordering System, then contact us today!