Dark kitchens have boomed in popularity in recent years, mostly driven by the demand for takeaways as a result of the pandemic. For those wanting to start up a business, they offer a low-investment option and significantly fewer barriers to entry.
Coming out of the pandemic, the rise of dark kitchens is showing no signs of slowing and the market is set to grow to a $71.4 billion industry in the next five years.
If you're considering starting a dark kitchen, you need to know what you're doing. You need the know-how, processes and concept to make it a success.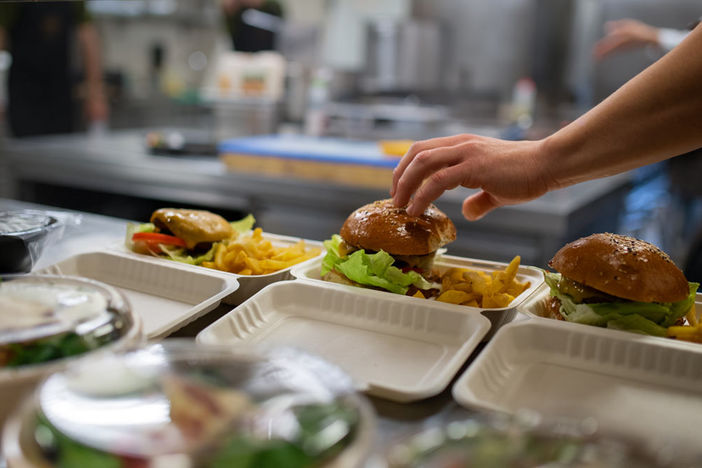 Why you should start a dark kitchen
Dark kitchens are a great way to start delivering food, without having to pay big money for high-street locations. You can simply launch your business on a delivery marketplace, or have your own online ordering app and website so your customers can order directly from you.
This means that there are far fewer barriers to entry if you're wanting to start a dark kitchen, and it means increased profit margins when you do.
The rise of marketplaces has facilitated the opportunity to get orders seamlessly and provide a well-needed kickstart to your business. Large marketplace, however, take a large chunk of your profits through significant commission rates.
This is why we would always recommend that you have your own mobile and website ordering technology running alongside – so your customers can order direct, and you can keep your profits – more on that later!
Consumers nowadays love dark kitchens, as it's offering them more options than ever.
How to find a dark kitchen location
Finding where you are going to run your dark kitchen is a great place to start. If you're not going to be running it out of your own home, then where?
Starting a dark kitchen from home
There are benefits to starting a dark kitchen from home, not only does it reduce the start-up costs even further, but it removes a significant barrier to entry.
Before starting a dark kitchen from home, consider if you have enough space for the equipment you need and what impact it will have on your day-to-day life.
Starting a dark kitchen from a rented space
Thankfully there are companies out there that work with dark kitchen hosts, making it easier than ever to connect.
We'd recommend heading over to OccupyD if you're looking to rent a dark kitchen local to you.
Understand the costs of setting up a dark kitchen
It's important to know the costs of setting up a dark kitchen before jumping in at the deep end. While dark kitchens have lower operational costs than standard takeaways, you'll need to take into account the following costs:
Equipment
Depending on what food you're making, you're going to require different types of catering equipment. It's a good idea to get advice from a similar takeaway who may be able to point you in the right direction of the equipment that you may not have thought of.
Alternatively, there are great places online such as UK Business Forums that you can use to get advice and Nisbets is a great place to buy.
Keep in mind that when you're buying equipment it must meet the legal requirements. For example, if your equipment is gas then it must be CE marked and include a flame failure device.
Storage solutions
If you're renting a commercial kitchen, this typically includes storage and cold storage solutions, however, some may come at an additional cost. So check with your landlord before you get started.
If you're running your dark kitchen from home, this may be something you want to invest in ahead of time. Cold storage will be critical for your dark kitchen so it's always better to have more than less!
Packaging
Striking the right balance for your packaging between price and quality can be a challenge. This is a big focus point for dark kitchens, as it is a key touchpoint with your customers.
We would recommend scoping out some of your competitors and seeing how they are packaging their food. Alternatively, Pinterest is packed with packaging ideas for all types of dark kitchens.
How to take online orders
Online ordering systems
How your customers interact and place orders with your dark kitchen is crucial. This is an opportunity to give them a great brand experience so that they come back time after time.
Thankfully your dark kitchen can have its own mobile app and website ordering system with little to no upfront costs!
A key benefit to having your own online ordering system is that with some providers such as Hungrrr, you don't pay any commission on orders – a key downfall of using large marketplaces. This allows you to keep more of your profit margins and increase your business's revenue.
Delivery marketplaces
Dark kitchens can often have a love-hate relationship as while they do generate sales for the business, it comes with a steep commission charge.
This can eat significantly into a business's revenue and can make being profitable a significant challenge.
We would always recommend that as a dark kitchen you should allow your customers to order both directly from you, or through a marketplace. As customers build a relationship with you, try to bring them across to your own website and app so they can order directly from you.
How to deliver to your customers
If you're going to be taking orders through your own online ordering system, you might be asking yourself how you're going to deliver the food to your customers.
Thankfully, with Hungrrr's online ordering system, we integrate with Uber Eats and Stuarts Delivery. This way, your customers can order directly from you and our delivery partners will fulfill the delivery for you.
This comes at a significantly reduced cost than if you were taking the order through their platforms, making it a cost-effective hybrid model for your dark kitchen. For more information on our integrations, visit our page here.
Allow your customers to pre-order
Giving your customers the option to pre-order can significantly streamline your operations. For example, we recently launched an app for a dark kitchen that delivers pizzas, and allowing their customers to pre-order gave them an indication of how much dough they need to make for the day.
It's a small feature, that can make a big difference!
Before launching your dark kitchen, consider if pre-ordering fits into your business model and how it can help your business operations.