Restaurants globally have been navigating challenges like no other. It's been a time that has pushed restaurants to adapt, making it more important than ever for restaurant owners to strive for increased sales.
While there are many advertising and marketing companies that say they can increase your sales for you, no one knows your business better than you do.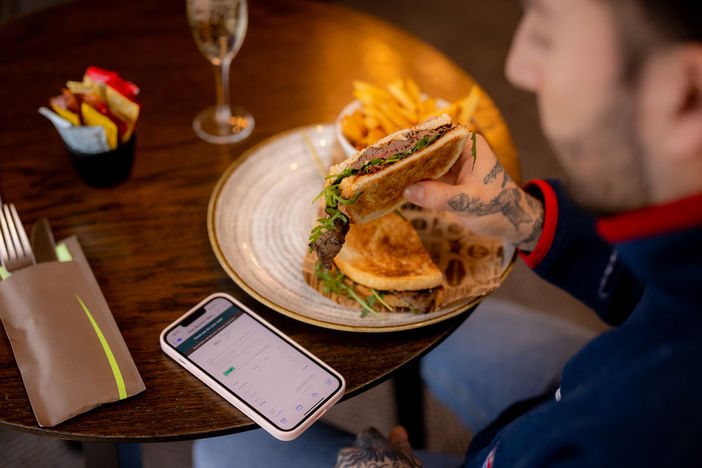 In our ultimate guide to increasing restaurant sales, we want to provide you with a complete overview of tips to equip you with the knowledge on how to leverage your sales this year.
Consider your customer drivers
When looking to increase your restaurant's sales, it's helpful to first look at your key customer drivers. A good place to start is through customer research to identify what brought them to your business. Surveys are a great way to speak to your customers and get valuable insights into their experiences.
Drivers you should be looking for:
Word of mouth
Google search
Social media
Returning customers
Once you have identified your key drivers, look to maximise existing performers and identify potential new ones.

Leveraging word of mouth as a restaurant
Leveraging word of mouth can be done in many creative ways. Focus on equipping your customers with reasons to showcase or recommend your restaurant.
Social media
When managed effectively, social media can be extremely lucrative for online visibility. Hospitality businesses have recently been sprucing up their venues and dedicating areas of their floorspace purely for the purpose of their customers taking photos.
This can often be done by using neon lights with an inspiring quote. Before you know it, you're on every Instagram story in town and getting more eyes on your business than you have ever done before.
Incentives
The use of incentives has boomed in recent years. This can be a powerful tool to drive sales and your bottom line, for a small cost.
Refer a friend incentives can be a great way to not only incentivise your existing customers but new customers also. If you are able to maximise this approach through email and social media marketing, you're in for a winner!
Hungrrr's online ordering system is a great way to do this. By allowing customers to order directly from your own mobile app or website, you collect and own your customer's data. Allowing you to send push notifications at a future date or contact them to promote a loyalty scheme.
Online reviews
Online reviews have been around for a while and their importance is as strong as ever. Making reviews a core part of your marketing efforts, you can give confidence to new customers considering your restaurant.
Friendly reminders to your existing customers to leave online reviews can go a long way! Whether it's a small request on your menu, an automatic email once they book a table, or simply a staff request, reviews can make a big difference to your online profile.
Leveraging Google as a restaurant
Gaining visibility across Google Search and Maps, your business will unleash a valuable market that otherwise would not have been possible.
Here are our top 5 tips for restaurants to leverage a strong presence on Google Search:
Register for a Google My Business and spend time on filling out all of the information and making it look good
Keep keywords in mind when creating your Google My Business profile, or any digital channel
Google reviews are extremely powerful in gaining visibility on local searches
Add professional pictures to your Google My Business profile to showcase your business in the best light
Have clear contact details or booking links if you use an online booking software
Leveraging social media as a restaurant
While social media can be time-consuming, it can also be highly rewarding. It's a great way to build a following, attract new customers, and drive free traffic to your website when managed correctly.
Fill your feed by posting exciting photos of your food, venue, and staff to build a picture of your restaurant online – this way customers will know exactly what to expect.
Hands down, one of the best ways to leverage social media for your restaurant is to look at influencers. They have become a strong asset for restaurants keen to increase their online visibility and it can be done in a cost-effective way.
In local areas or cities, there are small content creators on social media that would be happy to come down to your restaurant, share some images and their thoughts – all for a free meal. This is a great way to capitalise on some exposure, without breaking the bank!
Leveraging returning customers as a restaurant
Customer loyalty is crucial to the success of any business. Your restaurant can easily look to encourage the customer to return by exploring loyalty programs.
Common loyalty programs for restaurants include:
Set menu offers for seasonal days
Email marketing and regular communication with previous customers to keep them engaged
Enhance customer experience by having your own online ordering app and website so the customers can order directly from you. This can improve in-business service and allows customers to experience your brand when ordering for delivery

Optimise your digital presence
How strong is your digital presence and what experience do your potential customers receive? Key areas for consideration are:
What if a customer wants to book a table?
What if a customer wants to call you? For this one, phone your number to see if it gets answered and how long it takes for it to get answered
What if a customer wants to see what your venue looks like?
The importance of table booking functionality
Providing your customers with a way to book a table at your restaurant is an excellent way to increase your revenue. Gone are the days of calling a restaurant to book a table!
Customers are looking for convenience and easy-to-use technology, and table booking has been at the forefront of the tech adoptions from restaurants.
Once you have table ordering functionality in place, maximise its visibility by adding it to your website, social media, and Google accounts.
QR code ordering
Restaurants have adapted well over the past few years given the challenges. As a result, many have introduced QR code ordering systems into their restaurants to streamline the ordering process for customers.
Using QR codes in your restaurant can increase your average order size by 30% and reduce from of house costs by 20-30%!
To learn more about QR code ordering and how it can benefit your business, read our beginner's guide to QR code ordering here.
Menu, gift vouchers and locations
Common functionality should come as standard on your website, but also work! User experience is very important in today's world and your website needs to keep up.
Often, restaurants will upload their menu as PDFs to their website. This makes it very difficult for the customer to read and it takes them away from your core-site. Look to integrate your menu directly on your site, allowing your customers to access your menu easily.
If your restaurant offers gift vouchers or has multiple locations, make sure your website is built to optimise these opportunities. For example, can your customers order and pay for a gift card directly on your website?

Allow customers to order directly from you
The rise on online ordering has paved the way for businesses such as JustEat and Deliveroo. Whilst these platforms offer restaurants a lucrative way to increase their revenue, they also take a steep commission for the privilege of taking orders on their platform.
Giving customers the option to order directly from you not only allows you to maximise revenue from each order but deliver your own brand experience.
With hungrrr's app and website ordering technology, your customers can order directly from you. Built for restaurants, our technology can increase your sales and grow your business better.
No high commission fees
As mentioned, online ordering platforms charge significant commission rates for your business to feature on their platform. On average, companies take 25% of your revenue which can make a serious dent in your profits.
By offering your customers the ability to order directly from your business, you are able to keep 100% of the revenue.
It costs less than you think
Often restaurants expect high development costs to introduce their own app and website ordering but the good thing is that it costs less than you think!
With hungrrr, you can have your own app and website ordering technology for a small monthly package. This is fully branded as your business, allowing your customers to order directly from you.
Tap into a new marketing opportunity
A huge benefit of allowing customers to order directly from you, is that you can then market to them in the future. This ties closely into our previous points around increasing customer loyalty.
Once a customer orders from your restaurant you will have their data, giving you the opportunity to market to them going forward.

Consider your restaurant's atmosphere
Whilst this cannot be directly attributed to increasing your restaurant's sales, I'm sure we can all agree that a restaurant with a good atmosphere can make a big difference to our experience.
Here are some quick wins to improve your restaurant's atmosphere:
Music to set the mood
Lighting to set the ambiance
Table spacing to embrace discussion

The atmosphere of a restaurant can vary significantly, so make sure and go for an atmosphere that is authentic to your restaurant. Don't try to be something you're not!
The importance of a good POS system
EPOS systems can be valuable tools for your restaurant if you get the right one. If you've ever had the experience of using a poor system, you'll know how this can impact your customer's experience.
Not only can a good EPOS system streamline tasks for your staff but it can also come packaged with features to improve your business.
Getting started with hungrrr
Take your business to the next level with hungrrr's online ordering technology. Speak to our team today and take the next step towards growing your business with a branded app and website ordering for your business.