QR codes have boomed in popularity amongst hospitality businesses, giving customers a faster, more streamlined method of ordering food and drink to their table. QR codes replace the traditional ordering process by allowing customers to scan, order, and pay using their mobile phone.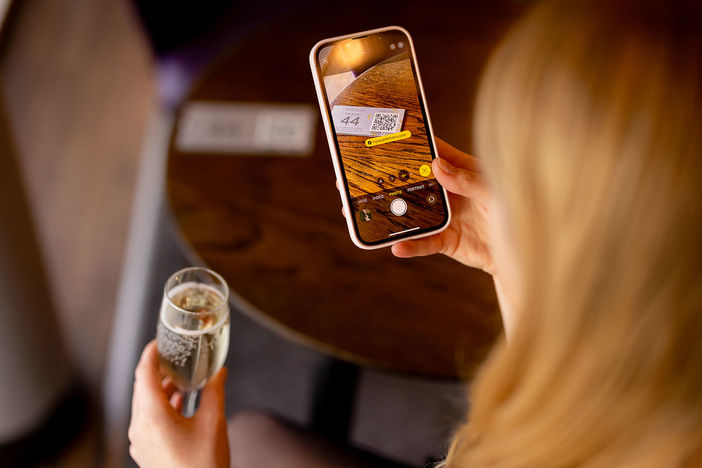 Why use QR codes?
QR code ordering systems provide a seamless customer experience by removing wait times and allowing them to order at their own pace. As a result, on average this increases the customer order size by over 30%.
Restaurants and venues often experience peak times, which can stretch staff and often result in longer wait times for customers. By providing a way for customers to order themselves, this reduces the requirement for staff to take orders and input the order into the till system – freeing up their time and allowing the customers to order faster!
By reducing the time-consuming process of taking a customers order and inputting it into the till system, businesses can significantly reduce the pressure on staff, creating a more streamlined operational process.
Overall, QR codes can significantly improve the customer experience for a business and the continued popularity of QR code ordering systems show that more businesses are willing to adopt the technology.
A QR code ordering system ensures accuracy and efficiency
I'm sure we've all been there when a member of staff forgets to add an order onto the system, misheard a customer, or accidentally cashes off the wrong table.
Human error is inevitable but it can have a significant impact on customer experience. Using QR codes removes the risk of error and creates a more consistent operational process for restaurants and hospitality businesses.
This is particularly beneficial for businesses now more than ever given the difficulty of hiring and retaining staff in hospitality. By keeping current staff happier, businesses can increase their retention rate, and by streamlining the ordering process, businesses can reduce the need for more staff.
How does a QR code ordering system work?
To keep this simple, we've created an infographic to show you how a QR code ordering system works:
Key features of a QR code ordering system
Website and app ordering: Direct your customers to either your website or mobile app to order from their table.
Accept Apple and Google Pay: With Hungrrr's QR code ordering system you can accept Apple and Google Pay on both website and app ordering system. On average, hungrrr clients have found that 70% of their customers will use Apple and Google Pay as their chosen payment transaction method. This is a valuable feature in our QR code ordering system.
Customise products: Allow your customer to add or remove toppings and fully customise their food.
EPOS integration: For many businesses, EPOS integration is a key feature they are looking for when researching QR code ordering systems. We're glad to say that QR code ordering systems do integrate with many of the EPOS systems on the market. For our full list, visit our integrations page here.
Branded QR codes: QR codes don't have to be the standard black and white QR code we often see. Add your logo and brand it with your colours.
Key benefits of a QR code ordering system
Change your menu without the additional costs
Changes to your menu will happen. A QR code ordering system allows you to make these changes without the friction of having to order new physical menus. This can create an additional cost to your business, and be a time-consuming process.
With a QR code ordering system, simply login to your management dashboard and update your live menu. This will seamlessly update the menu on the front-end for your customers and takes seconds to do.
Increase order size by 30%
At hungrrr, many of our clients see an increase of up to 30% on their average basket size order. The convenience for customers ordering at their table, through their own mobile facilitates an increase in purchases.
If you're interested in learning more about how to increase your order size and sales, read our ultimate guide to increasing restaurant sales here.
Outdoor table ordering
For businesses with outdoor areas, this can place an added pressure on staff as they tend to be more difficult to manage.
By using QR code ordering, this makes managing outdoor areas significantly easier for businesses, as mentioned by one of our clients Thundercat Pub & Dining here:
How to get started with QR code ordering
Start by having a demo session with a member of our team. This is an opportunity for us to learn more about your business, and for you to ask any questions you have. You can request a demo using our enquiry form here.
Once you have had your demo session, our production and onboarding team will build your website and app. This will be ready for you within a few weeks.
Our team will then send you the QR codes in the form that you would like. This can include; table disks, codes engraved in metal, wall mounts, A frames, and more.
Now you're ready to go live. Our team will launch your website and app, allowing your customers to order by scanning your QR codes.