As takeaway business owners are seeking to diversify their customer ordering experience and move away from third-party marketplaces, it leaves many in search of their own online ordering app.
If you're a takeaway and you want to know how much you're losing in commission to third-party marketplaces, use our calculator here.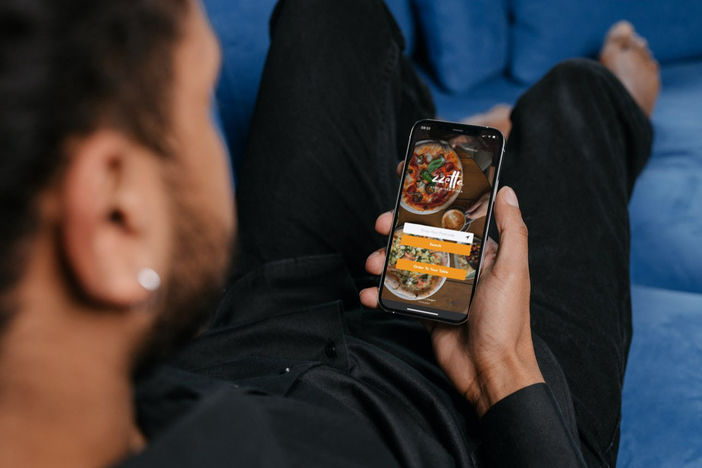 Building your own app can be challenging, particularly when you're looking to integrate the functionality required for a takeaway business such as:
Delivery
Click & Collect
Driver Tracking
Push Notifications
Signature Confirmation
If you're looking to introduce a branded app for your takeaway and you're unsure about whether a takeaway app builder or using a white label provider is the best solution, our article is here to help.
What is a white label app?
To get us started, let's first understand what a white label app is, and what it can look like for takeaways.
White label takeaway apps are when a web development company builds a standardised app with all of the functionality that a takeaway needs. The web development company will wrap the app in the takeaway's branding and list it online as the takeaway's business name, giving customers an authentic brand experience.
Often businesses will need to contact the web development company to enquire about their white label option. This can be as simple as completing an online form to get the ball rolling.
Benefits of using a white label app include:
It's easy to get started. In most cases, you'll simply need to send across your business logo, colours, and images to get started. At Hungrrr, we have an easy-to-complete form whilst you are going through the onboarding phase. Once this is complete the web development company will do the rest.
Strength in numbers. A huge benefit of using a white label app is that many other businesses are using the same technology as you are. This means you can have confidence that the technology is tried and tested, and that the product your customers will be using will run smoothly.
Web development team behind you. If you have any questions about how something works, or if something isn't working the way it should be, using a white label app means that you have a team of web developers on hand to support.
Let the team do the work. Creating an app for a takeaway can be a challenging and lengthy process, particularly because of the features required that are unique for takeaways. Tapping into an existing app can save you a lot of time and headaches!
Support as and when you need it. Having an on-demand support team to help you at any time can be a big stress relief for a business owner. Hopefully, you should never need them, but if you ever do having a technical support team to resolve the issue for you will make life a lot easier.
Native functionality. Have confidence that hundreds of other takeaways in the country are using the same app ordering technology you are. This means all of the native functionality that your takeaway requires, will likely be built and ready for you to use.
Benefits of using an app builder for your takeaway:
You've built apps before. If you've built apps before, or if you are an app developer, building your own app can be a great option to get started.
You want to try it for yourself. If you're in the early stages of wanting your own ordering app for your takeaway and you want to get an initial ordering app ready, building your own app allows you to try it for yourself. It may not take long before you get an idea of if it is going to work for you and your business.
Full control. When using an app builder, you have complete control of the full app. While with white label apps you are able to change the styling to fit your brand, you do not have full control over all areas.
More cost-effective. If you decide to build your own takeaway app, you can save money in the long term as you are only paying for the essentials to get your website live. These include your website domain and hosting.
Go at your own pace. When building your own takeaway website, you can go as quick or slow as you wish. This can be particularly beneficial for new takeaways or ghost kitchens just starting out.
Let us guide the way
If you've decided that takeaway app builders aren't right for your business, our white label website and app ordering system for takeaways may just be the perfect fit for what you are looking for.
Hundreds of takeaway businesses use our website and app ordering system to take orders directly from their customers. This allows them to reduce the reliance on third-party marketplaces that charge high commission rates to be on their platform.
If you would like to learn more about our online ordering system, speak to our team today.